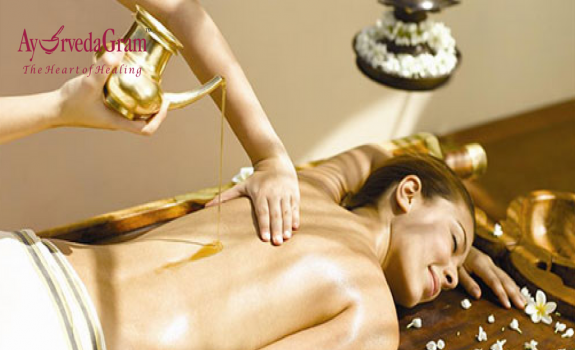 Panchakarma?
Panchakarma is a detoxification process that includes 5 major procedures.
It is designed to purify the whole body by eliminating the accumulated toxins from it.
Panchakarma strengthens the immune system of the body and in-turn boosts the metabolic activities of our body. It completely flushes out the toxins while restoring the innate health and healing ability.
The duration for carrying out the panchakarma is 14 days.
6 days- Preparation
1 day- purge
7 days- Build-up and healthy lifestyle phase
The Panchakarma Process
There are 3 stages in Panchakarma
Stage 1: Purva Karma
The process begins with eliminating the toxins by applying fat both externally and internally followed by applying heat.
Stage 2: Pradhana Karma
The toxins are expelled out of the body by 5 procedures known as Panchakarma.
Virechana (purgation)
Vamana (emesis)
Sneha vasti ( oil )
Kashaya vasti ( medicated decoction)
Nasya (nasal cleansing)
Stage 3: Paschat Karma
This stage includes nourishment, yoga, and meditation.
A special diet is consumed for nourishment.
The tasty food is composed of six colours for every meal having less oil and salt.
It helps you to lead a healthy life.
Major Benefits Of Panchakarma
The program can be applied both to a healthy and an ailing person.
Major Benefits Of Panchakarma
Boosts your immune system

Removes disease causing toxins

Enhances physical & mental efficiency

Helps to lose weight

Helps to alleviate insomnia & mental issues

Enhances stamina

Enhances joint flexibility

Improves skin complexion
When a healthy person is subject to Panchakarma, it has a preventive, restorative, and rejuvenative effect on the body, while for an ailing person, it has curative benefits.
Why Panchakarma at Ayurvedagram?
Panchakarma therapies in Ayurvedagram are delivered by expert therapists that result in speeding up of metabolism,, blood purification, de-stressing and increasing the focus of the mind.
It helps in loosing weight by eliminating extra fat.
It adds a glow to the skin, makes the hair thick and the mind calmer.
Ayurvedgram has a host of facilities for the visitors coming from various countries.
Facilities Provided
The qualified professionals, state-of –the-art facilities coupled with world-class yet homely ambience at Ayurvedagram presents an unforgettable experience to nationals visiting from various countries every year.
Consult Now
Back